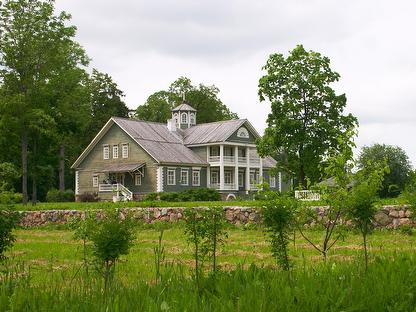 The importance of a cottage inspection
So you've found a cottage you love. Great waterfront, newly renovated, and the kitchen of your dreams. But what about the septic? The wiring? Plumbing? Before you buy, have the cottage inspected; no matter how experienced you are as a homeowner, it's the best way to make sure you really know what you're getting into.

A home inspection will give you the information you need to make an informed decision. The inspector will determine the condition of the property you're thinking about buying, and let you know if there are any problems. (And the great thing is, the inspector doesn't care if you buy the property or not, so you can be sure he or she is being objective, even if you're not.) If you have to make an offer before having a home inspection, make it conditional on a satisfactory inspection.
If there are any problems, you have three options:
1. Walk away.
2. Use the results to negotiate a better price.
3. Give the seller a chance to fix the problem.
What happens during a home inspection?
The inspector meets you at the home you're thinking of buying, and takes about 3-4 hours to carefully inspect the entire property for structural, mechanical or other issues. He or she examines everything from the roof to the foundation and everything in between, including heating and air conditioning, plumbing and septic, electrical, insulation, roof, windows and doors, walls, ceilings, attic and basement. You can accompany the inspector as he or she goes through the home – it's a good way to get to know the home quickly, and will give you a head-start in your home care "learning curve."
The inspector then prepares an inspection report that outlines problems (breaking them down into major repairs that need to be done right away and areas that will need attention in the future, with accurate cost estimates for each), highlights good points, and gives you an idea what kind of maintenance you'll need to do to keep the place in good shape. Make sure you ask for a detailed report that's written in a narrative style. Never accept a verbal report or one that's just a checklist.
How much does it cost?
Most inspections cost between $500 and $700. Think of it this way: a few hundred bucks could save you thousands in home repairs. It's a pretty small price to pay for significant peace of mind.
How do I find a good inspector?
Look for a reputable, qualified company that has been in business for a while, can provide references from previous customers, is fully insured and offers guaranteed inspections. Inspectors should be licensed in building-related fields such as contracting, architecture or structural engineering. Your REALTOR® can recommend a reputable, objective inspector at your request, or you can find one by asking friends or by looking in the phone book.
Trademarks owned or controlled by The Canadian Real Estate Association. Used under licence.