Muskoka Ice-Out Dates - 13 Decades Of Tracking
-----------------------------------------------

The 2023 Great Muskoka Ice-Out Contest Will Open in the Spring


-----------------------------------------------
Guess the date the ice goes out on Lake Rosseau and you will be entering for a chance to win a trip for two aboard the RMS Segwun for an afternoon cruise ( Retail Value $120)

 
When The Ice Goes Out, Cottage Season Starts In Muskoka
For centuries, the date that the ice goes out signals the start of cottage season. The water colour goes back to its brilliant blue, boats go in the water, birds return from migration, and Muskoka seems to come to life. We have compiled over 125 years of information on ice-out dates, from a variety of sources, to help celebrate this special time in this historic area of Canada.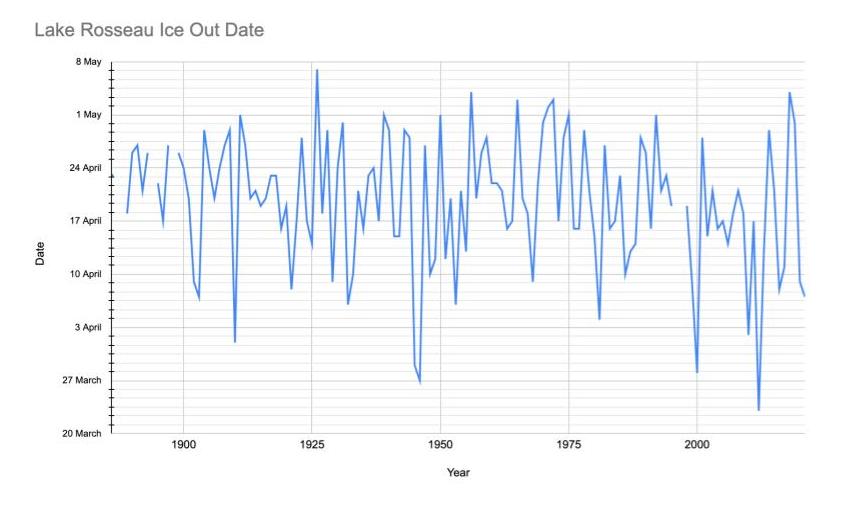 Fun Facts About Ice-Out Dates in Muskoka
- 2018 tied with 1956 for the second
 latest ice-out date on record : May 4.
-2021 Ice Out Date: April 7
- Earliest Recorded Ice-Out Date: March 23, 2012
- Latest Recorded Ice-Out Date: May 7, 1926
- Average Recorded Ice-Out Date: April 19th 
- 89% of Ice-Outs occurred in the month of April
Not surprisingly, the long term trend is toward earlier Ice-Out dates
---
Most frequent Ice-Out dates:
---
Our Sources:
To the best of our knowledge, the following individuals were responsible
for recording the Ice-Out dates* referenced here:
1886-1899: The Henry Family of Minett
1900-1919: Captain John Rogers of Port Sandfield
1920-1930: Victor Croucher, Lake Joseph
1931-1945: Keith Croucher, Lake Rosseau
1946-2006: Cecil Frazer, Port Carling
2007- 2021: Robert Goltz, Windermere Area Archive, Lake Rosseau
For more information of methodology, please see the presentation link below.